The adventure continues. . .
VISITING FINCA FILADELFIA
---
Feeling the need to replenish our energy stores after the workweek, Brit and I decided to head to a local coffee finca (plantation) for a weekend mini-adventure. The place we visited is called Finca Filadelfia, and is a local coffee farm that we'd heard gives great tours and produces really good coffee.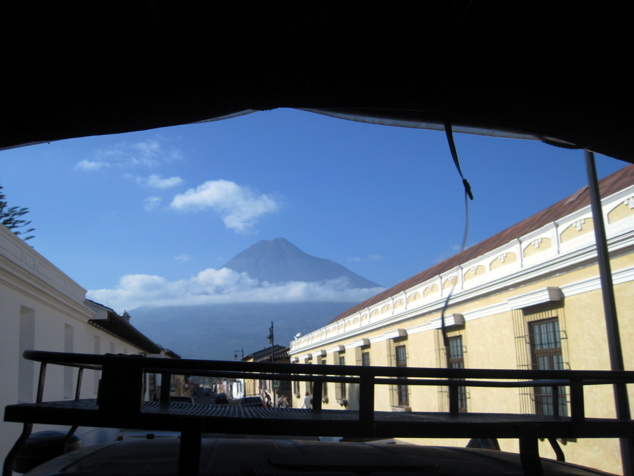 Another typical view from the streets of Antigua. Here you can see Volcan Agua, the one I've written about before, which towers over the south end of town. This shot was taken from the back of the army-style tented truck that Finca Filadelfia uses to transport visitors to and from the plantation.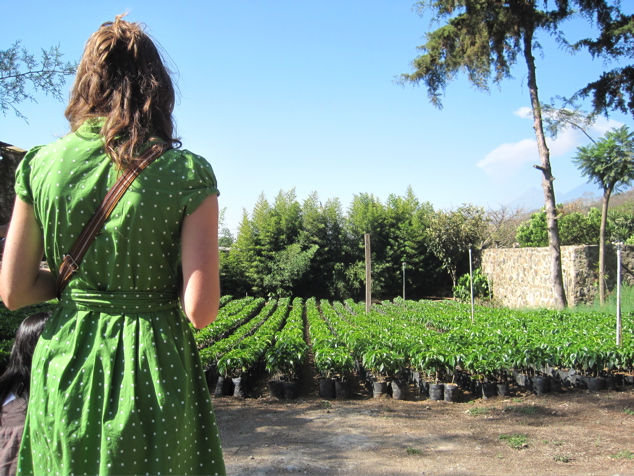 Brit standing in front of one of the several fields of baby coffee trees that are grown at the plantation. There are actually two types of coffee plants that are used in this process. They take the top part of one fast growing, hi-yield species of plant and graft it onto the bottom part of another species that has super-hearty roots. They then let these little guys grow in the shade for a while before replanting them out in the actual fields. Check out all that green.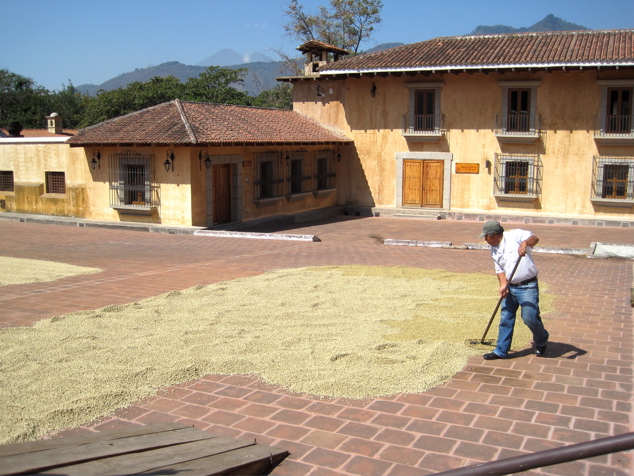 After the beans are harvested by hand, they go though this whole complex process of being shelled, skinned, dried, and roasted. Here, you're seeing the drying process, which basically consists of laying a ton of beans out in the sun and occasionally giving them a turn. The finca is set in this beautiful valley that sort of reminds me of wine country, in a facility that looks a lot like a winery. You can tell where the money's at here. You can see volcanoes Fuego and Acatenango in the background.

B-BALL IN L.A. & FINGER TROUBLES
---
In early February, I had the pleasure of flying back into the US to participate in another wheelchair basketball tournament in Long Beach, CA. This time I was playing with my home team from San Jose, and it felt great to see all the guys again. There's something about sports that makes a unique kind of friendship/bond, that's for sure. Anyways, I got to play a bunch of basketball, hang out with my good friends (including seeing Brit's mom again, along with her friend Salli), and eat a bunch of food that didn't have beans in it!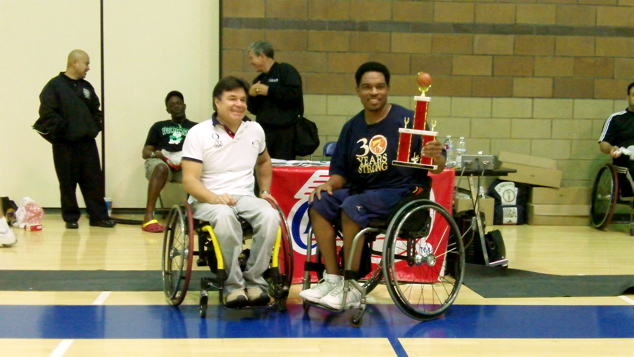 On the plus side, we played awesome, winning all five of our games (some of them really tough) and taking home the 1st place trophy. I was worried that I'd be totally out of shape and practice, but it turned out that our weekly practices down here, jungleball style, are really paying off. Compared to the destruction-derby that sometimes ensues down here, the LA tourney was like a meditation retreat. Here's my teammate Chuck, showing off the trophy. So that was the good news. And the bad news. . .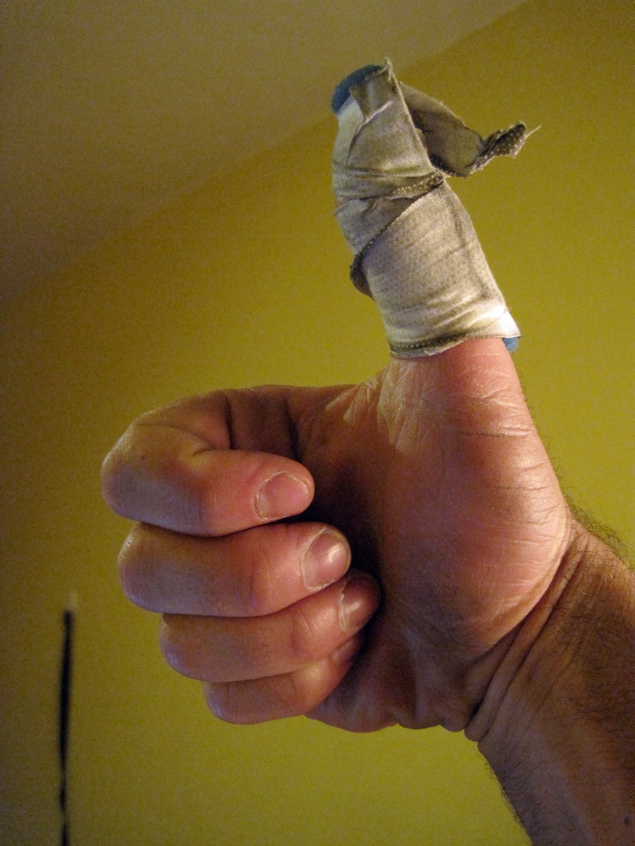 . . . in the middle of our second our third game, on the first day, I suddenly realized that I couldn't move the last joint of my thumb on my right hand. Well I could contract it, but I couldn't extend it at all - really a weird sensation. Thinking I'd just jammed it really badly, I took a quick sub, taped it up nice and tight, and continued to play that day and the next. After returning to Guatemala, I just continued taping it every day, expecting that it would eventually just get better on its own. Little did I know. After two weeks and no real improvement, I finally went into the capital to visit a doctor that's a friend of Transitions. His diagnosis: a torn ligament that would require immediate surgery (so as to prevent the tendon from retracting up into my arm) and a cast for eight weeks. Of course, my first thought was "FUCK THAT!" And luckily, thanks to some great research on the behalf of my parents, and a bit of my own online searching, we discovered that surgery was indeed probably not something I was actually going to need. Wheeew! What a relief! So, no surgery, but I do have to keep my thumb in a brace 24 hours per day, 7 days a week, for 8 weeks total.

SEMANA SANTA IN ANTIGUA
---
Brit and I have also had plenty of time to just hang out in Antigua, which has been really nice on the days where we can just kick back and relax. Plus, for the past bunch of weeks, Antigua has been celebrating "La Cuaresma", the 40 days that lead up to Easter. This is a really celebratory time here in Antigua, and all culminates in "Semana Santa", the Holy Week, which is just beginning as I write this update. Here are some pictures to give you an idea of what goes in these parts.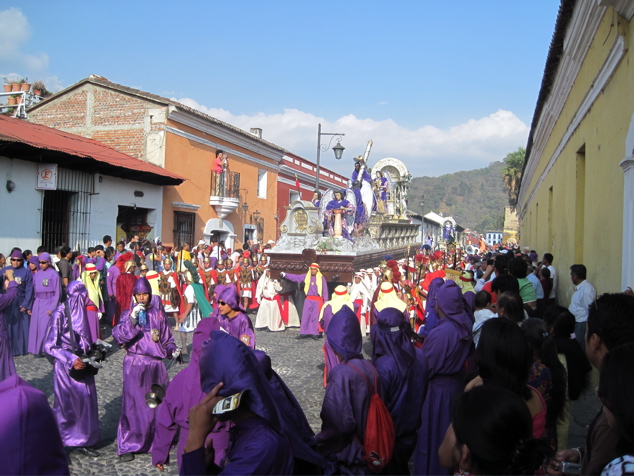 Every Sunday during La Cuaresma, one or two local churches puts on this big event called a procesión (procession). A proseción is basically this long human train of people, all decked out in some sort of traditional garb, bearing these massive aldas, basically really large floats depicting Jesus, Mary, and other biblical imagery. These slow-marching groups gradually wind their way through town, passing by local churches for short visits, and eventually returning back to their home church in the evening. Some of these procesiónes travel ridiculous distances, and the whole thing often takes from 7 or so in the morning all the way until 9ish at night. And when you see the way these people strain under the weight of their aldas, you know this is no easy task.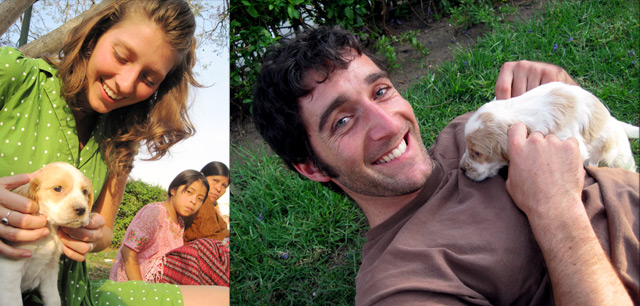 Oftentimes, while wondering through the central park in Antigua, you'll come across people who are trying to sell puppies. Which is fantastic for us! We get to watch these little guys run around in the grass, try to attack imaginary enemies, and best of all we even get to play with them ourselves sometimes.

LAGO ATITLAN
---
Looking for another mini-vacation, Brit and I headed north to Lake Atitlan. About a 2.5 hour shuttle ride away, this beautiful lake sits in a volcanic basin, with three massive volcanoes towering above (a common theme here in Guatemala, no?). We got to spend 3 days relaxing in Panajachel (pana-HUH-shell, the lakeside entry town), visiting a great little cabana on the shore, kayaking, swimming, and just vegging out.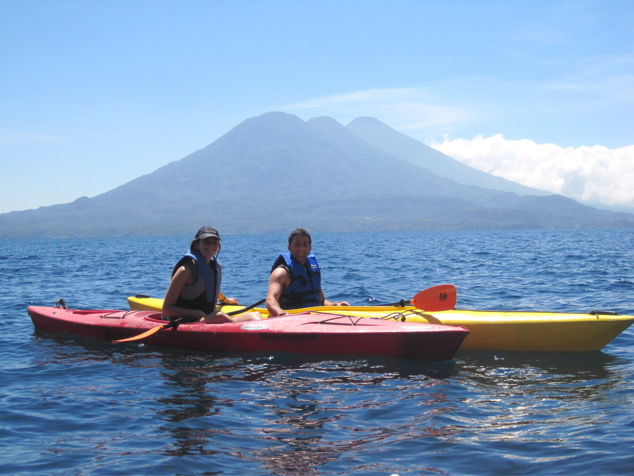 The highlight of this trip was definitely the kayaking. Brit and I have become sort of semi-passionate, completely recreational kayakers, and this was an awesome spot to pursue our new hobby. As I said, the scenery is pretty spectacular, and in this photo you can see three of the volcanoes (they might just be mountains, but volcanoes are way cooler to kayak below) that rise above the rim of the lake. Up until recently, Lago Atitlan has been suffering from a massive algae bloom that has made the lake largely unswimmable, and has caused tourism to take a big nosedive. When we were there, however, the water was incredibly clear and crisp, perfect for some swimming. We did come back with some new parasites in our stomachs (nothing major), but who's to say if it was from the algae or not? The swim was definitely worth it!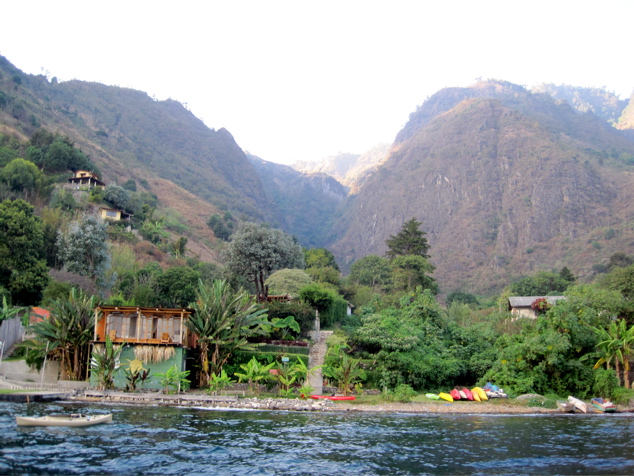 Luckily for us, Jake (my brother) had given us a friend to contact at the lake, and that person had referred us to a great guy named Lee. Lee owns and operates this awesome little kayak and lodging business out in Santa Cruz, one of the pueblos on the lake, and the least I can say is that he completely hooked us up. Not only did he personally guide us around the lake on his kayaks (which included a trip to a great jumping-off dock and a hot springs), but he let us spend the rest of the day hanging out with him and his wife at their beautiful lakeshore property. This photo shows the property from the boat as we were heading back to our hotel in Panajachel in the evening. On the bottom left of the photo you can see the little casita where Brit and I spent a few hours just lounging, hanging out with Lee and his wife, and having an all around very relaxing time. Below is the beach where we started our kayak journey, and above is the house where Lee and his wife live.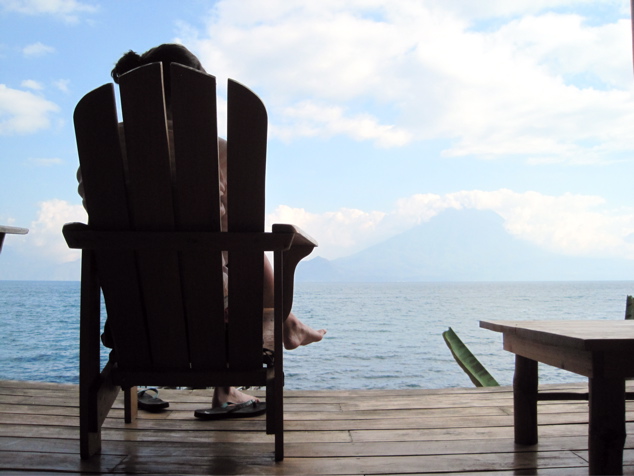 Here's a shot of Brit looking out from the deck of the casita. I'm not lying when I say this place has some amazing views!

MORE TO COME...
---
Visiting Tikal, home of the Maya
Trip to Denver
More wheelchair basketball
A buddhist excursion